Jesus Christ – My Redeemer & Your Redeemer
Jesus Christ, through His death on the cross at Calvary, redeemed us with His precious blood from eternal destruction. Only the shed blood of Jesus Christ ( a sinless man ) could wash us from our sins and connect us back to our loving Father – the Holy God.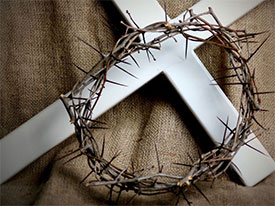 Jesus Christ, the Son of God, was entirely man and fully God. Through His death, He fully paid the penalty for the sins of the whole world ( with no exception ) so that we could all come into eternal life. On the cross at Calvary, He died the most gruesome death anyone could ever imagine – mercilessly beaten, then nailed to a wooden cross, buried and on the third day, God raised Him from death.
The Holy Bible says
Jesus Christ was delivered up because of our offences and was raised because of our justifications
(Romans 4:25).
Jesus, now in Heaven as our High Priest, offered Himself to God as one sacrifice for sins, good for all time.
However, the infallible word of God (The Bible) states
"For by one offering He (Jesus Christ) has perfected forever those who are being sanctified ( made holy)".
(Hebrews 10:14)

Therefore if anyone received Jesus Christ as their personal saviour, such person has been sanctified through the offering of the body of Jesus Christ once and for all. Be aware that God has no pleasure in the sinner's death.
God desires all human beings to be saved for eternal life in Jesus Christ, which explains why He sent His only begotten Son to pay the penalty that nobody else can pay in the flesh.
God says we can believe this very act of His son's death and resurrection; then we will not perish eternally in the undesirable place called Hell ( created for Lucifer (Satan) and the falling Angels ). But, we will secure our eternity in Heaven (where God resides).
"Most assuredly, I say to you, he who hears My word and believes in Him who sent Me has everlasting life, and shall not come into judgment, but has passed from death into life." (John 5:24 (NKJV)
Heaven is my desire for you, and the only way to this desirable place is through Jesus Christ. Accepting Jesus Christ as your Lord and Saviour and living for Him is the only action you will have to take here on earth to secure your place with God for eternity.
Make up your mind with God. You don't procrastinate; the next minute may be too late. You are not in control of the next minute, and probably it might be the next phase of your life which are eternal. Where do you want to spend this unending period – With God or Satan? If with God, click the following " BE SAVED " to pray the Salvation prayer with me and let me know so I can always pray for you.